A 'holiday market' has been launched in the capital's Agargaon area on a trial basis with the products of small and medium enterprises (SMEs).
The commerce minister, Tipu Munshi, and Dhaka north city corporation (DNCC) mayor, Atiqul Islam, inaugurated the market on Friday morning.
The market has been opened as a joint venture of DNCC and Oikko Foundation. It is a pilot project marketing products of cottage, micro, small and medium enterprises (CMSME).  
The market stretches across the ICT road — from Parjatan Bhaban of Agargaon's Sher-e-Bangla Nagar to the Election Commission (EC) building. The stalls will be set up at both sides of the street every weekly holiday, Friday and Saturday.
In the inaugural ceremony, the commerce minister, Tipu Munshi, spoke as the chief guest with DNCC mayor Atiqul Islam in the chair.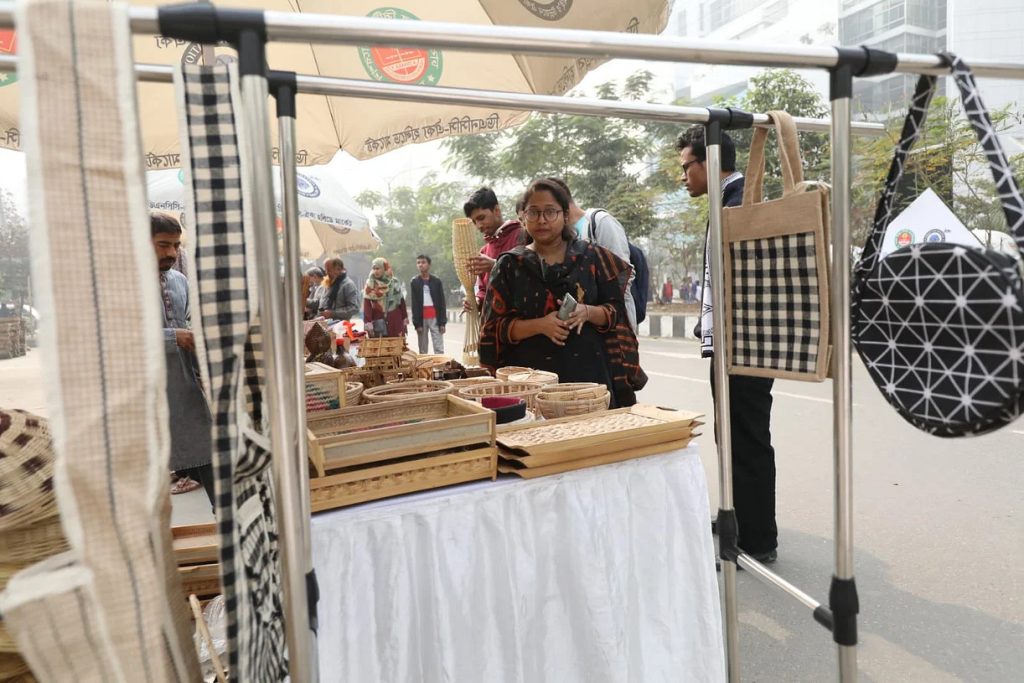 He said the entrepreneurs will get a scope to participate if such types of small markets are opened at different areas in Dhaka city. In regard to participation, women entrepreneurs will be given priority, which will help them move forward.   
The commerce minister asked the ward councilor concerned and the police officials to ensure special duty to avert mismanagement in the market.  
In his speech, mayor Atiqul Islam said many countries in the world have holiday or evening markets. Usually, the prices of goods in this market are less costly than any other general ones. That is the advantage of this market.  
The mayor said, "Those SME entrepreneurs who have set up stalls here make the products by themselves at home. So, there is no scope to sell adulterated commodities in the market."
Atiqul said there will be a 'cultural corner' at the side of the holiday market where different cultural events will be performed. Those who will come to the market with their family members will get an opportunity to perform any cultural event they intend to.
He said if the pilot project is successful, then all 54 wards in DNCC will get a 'holiday market' each.    
On a spot visit, it was seen that a total of 100 stalls were set up at both sides of the road, displaying lifestyle, fashion, home decor, handicrafts, organic, agriculture and food products. There is a plant nursery too.
Entrepreneur Jasmin Akhter has set up a stall in the market with rice, dal (lentil), oil, spicy, honey, ghee and dried fish.
She said, "I work with different agro and food products. I prepare spices myself, collecting necessary ingredients. The buyers will be able to collect safe and natural foods from us."
Another SME entrepreneur, Kubbat Hossain, is selling different winter vegetables, including cherry tomatoes, lettuce and broccoli, which he cultivated on his field at Hemayetpur in Savar.
He said, "I have been cultivating vegetables organically since 2004. It is undoubtedly a good initiative for small entrepreneurs like us."