Two journalists and a TV programme won oikko.com.bd-IIMCAA,BD Media Award for reporting on Bangladesh-India relations, launched for the first time by Indian Institute of Mass Communication Alumni Association (IIMCAA,BD).
Information and Broadcasting Minister Dr. Hasan Mahmud addressed the award giving ceremony as chief guest while Indian High Commissioner Vikram Doraiswami as special guest.
Presided over by IIMCAA,BD President Ihsanul Karim, it was also addressed by central IIMCAA's former President Prasad Sanyal, Oikko Foundation's founding Chairman and oikko.com.bd's CEO Apu Mahfuz, and IIMCAA,BD Senior Vice President Azizul Islam Bhuiyan and General Secretary Zahid Newaz Khan.
The oikko.com.bd-IIMCAA,BD Media Award, which was open to all Bangladeshi journalists, was handed over at CONNECTIONS 2022, the annual meet of alumni of the Indian Institute of Mass Communication (IIMC), at Samson H Chowdhury Centre of Dhaka Club on Saturday evening.
This time the awards were given for three years as the `CONNECTIONS' could not be held in last two years due to pandemic situation.
News24 television's `Team Undercover' programme won the 2019 award for its in-depth investigation of how firearms are being smuggled into Bangladesh from India.
Prothom Alo's Special Correspondent Raheed Ejaz won the 2020 award for his report: `Bangladesh-India relations through the lens of Dhaka: India wants Bangladesh as a geopolitical partner.'
Shamima Dola, Editor of News Now Bangla, won the 2021 award for the reports `Line of credit: One of the bedrocks of India-Bangladesh ties' and `Implementation of motor vehicles agreement to increase Bangladesh-India trade by 25 percent.'
The jury board for the oikko.com.bd-IIMCAA,BD award comprised UNB Editor Farid Hossain, Global TV CEO Syed Ishtiaque Reza and Dhaka University's Mass Communication and Journalism Department Chairperson Abul Mansur Ahmed.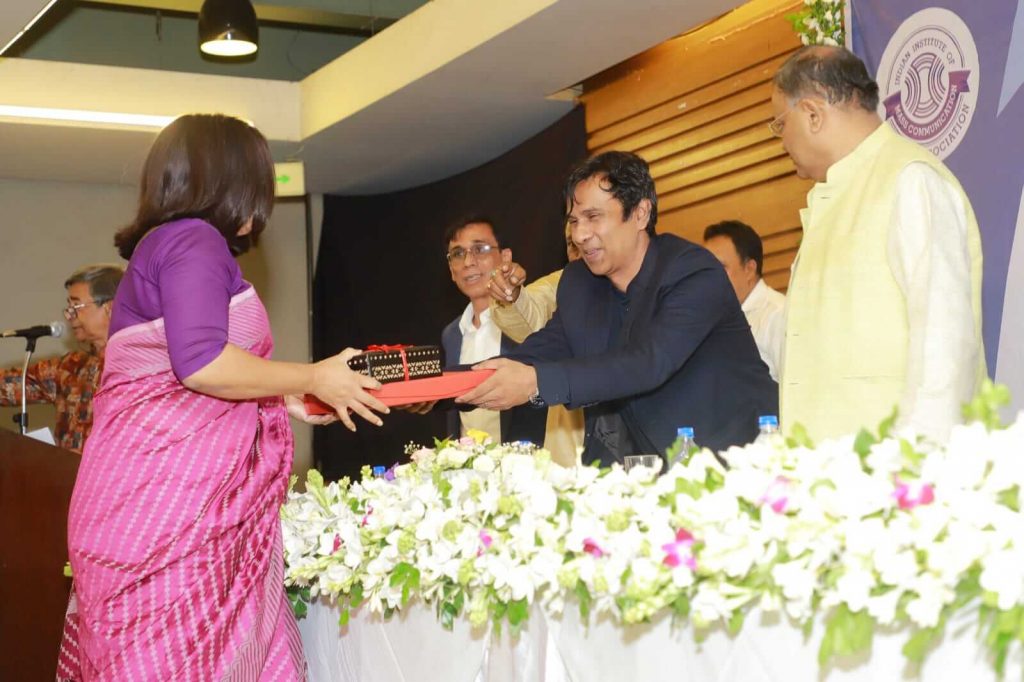 Addressing the function, Information and Broadcasting Minister Dr. Hasan Mahmud said it is obvious to have excellent relationship between Bangladesh and India as the neighboring country (India) had played outstanding contribution to the great Liberation War.
"There is no issue of disparity and it is needed to work in together to foster the relationship of the two countries. The relationship between Bangladesh and India has reached a new height in the recent year under the dynamic leadership of Prime Minister Sheikh Hasina and her Indian counterpart Narendra Modi," he said.
Hasan said about one crore people got shelter in India during the Liberation War and the then Indian Prime Minister Indira Gandhi had visited different countries to free Bangabandhu from Pakistan prison and presented the scenario of mass killing of Pakistani occupation before the world.
For that reason, the name of India will be written with golden letters forever in the pages of history of Bangladesh independence, said Dr. Hasan Mahmud.
The minister congratulated the winners of the Media Award and hoped that all mass media and the IIMC graduates would play a pivotal role in strengthening the friendly relation of the two countries.
Indian High Commissioner to Bangladesh Vikram K Doraiswami said India is committed to assist Bangladesh as much as possible in developing education and upliftment of the people as a close friend.
Oikko Foundation founding Chairperson and oikko.com.bd Chief Executive Officer Apu Mahfuz told the function that Prime Minister Sheikh Hasina and Indian Prime Minister Narendra Modi are working for economic development in their respective countries and in the region.
"We as a very little part of their bid are honoured to be part of this arrangement which is demonstrating the excellent bilateral relations between Bangladesh and India," said Apu Mahfuz.
Earlier in the afternoon, a biennial general meeting of IIMCAA,BD was held and a new committee was formed for the next two years.
Ihsanul Karim, Press Secretary to Prime Minister, and Zahid Newaz Khan, Chief News Editor of Channel i and Editor of Channel i Online, were re-elected as President and General Secretary respectively of the organisation.
Other members of the committee are- Senior Vice President: Azizul Islam Bhuiyan, Vice President: M Rahmat Ali, Joint Secretary: Angur Nahar Monty, Treasurer: Naznin Akhter Tonni, and EC Members: Farid Hossain, Nazrul Islam MIthu, Samir Barua, Sabuj Yunus, Maruf Nawaz, Rozina Islam and Wares Hossain.