Bangladesh's first holiday market with products from SME entrepreneurs has opened in the capital Dhaka. 
Commerce Minister Tipu Munshi inaugurated the DNCC-Oikko Holiday Market at ICT Road in Agargaon around 11:30 am on Friday. 
"It [the market] should not be mismanaged in any way. Dhaka North City Corporation will have to take initiative to expand its scope and manage it beautifully," he said.
"This holiday market was on the list of our campaign promises. We're taking the initiative to set up holiday markets in all 54 wards of DNCC. We'll implement it very soon," said Mayor Atiqul Islam. 
DNCC and Oikko Foundation, a non-profit working for the country's Cottage, Micro, Small & Medium Enterprises (CMSME) sector, co-organised this market as a pilot project, said the mayor. 
The market will be held on two weekly holidays, Friday and Saturday. 
The shopkeepers will set up their shops in this market in the wide parking area on the north and south sides of the ICT Road.
A total of 100 stalls are set up on both sides of the road, 50 on each side.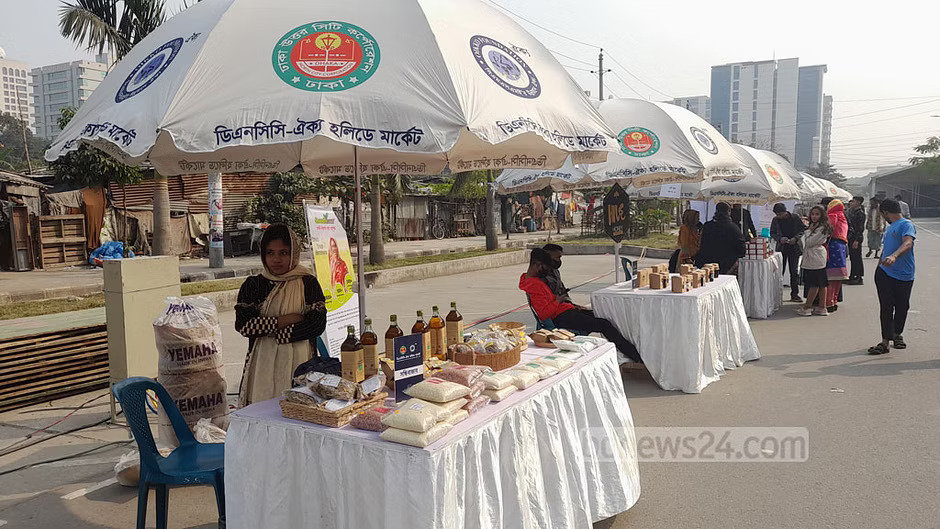 "Involve women entrepreneurs more in such initiatives. Half of our country's population is women, and [the number is] slightly more if we consider voters. So we can't go too far leaving these women behind. 
"They have to be involved in everything. Through them, we can go further," the commerce minister said, appreciating the initiative to open the market. 
CMSME entrepreneurs set up shop with their products on the opening day. Shopkeepers displayed leather and jute products, handicrafts, fashion and lifestyle products, and home decor products.
Some have also kept organic products, agricultural and food products and beverages of hilly regions. There is also a nursery. 
The market started attracting crowds from the first day. The number of women entrepreneurs was high. 
"I've decorated my shop with hand-woven garments carrying different social and cultural traditions of our country," Tahura Banu Iti, from a shop called Karushilpa, told http://bdnews24.com. 
"People are coming. Some good results will come from this fair if it is run regularly and systematically." 
Shahnaz Parvin, a housewife who came to see the products in the market, said: "There are many organic foods here – like tea leaves, mushrooms, bags, clothes. This is a good initiative. We can come for a little shopping on holidays."