'Ending Unemployment by Achieving Skills, Inception of new SME Entrepreneur' with this motto, Oikko Foundation has inaugurated 'Oikko SME Digital Institute'- www.oikkosmedi.org having an aim of creating new SME entrepreneurs and skilled manpower in the SME sector as well as empowering the youth of Bangladesh to run sustainable enterprises.
In the presence of more than 100 SME entrepreneurs at the program, Oikko Foundation has inaugurated country's first SME Digital Institute on Wednesday evening, October 26, 2021 at Lakeshore Hotel in the capital.
President of the Oikko Foundation (CMSME Entrepreneur Development Wing) and prominent woman leader Ms. Shahin Akhtar Rainy has presided the inaugural event. The platform aims to create SME Entrepreneur through training, employment and training through digital platform for the unemployed youth of Bangladesh.
Hon'ble State Minister of the Ministry of Social Welfare of the Government of the People's Republic of Bangladesh the great freedom fighter Mr. Md. Ashraf ali khan khasru, MP was present as the Chief Guest on the occasion. Mr. Shykh Seraj, Director and Head of News, Impress Telefilm Ltd., Channel I, member of the trustee board, Oikko Foundation, an eminent digital and media development personality was present as the special guest.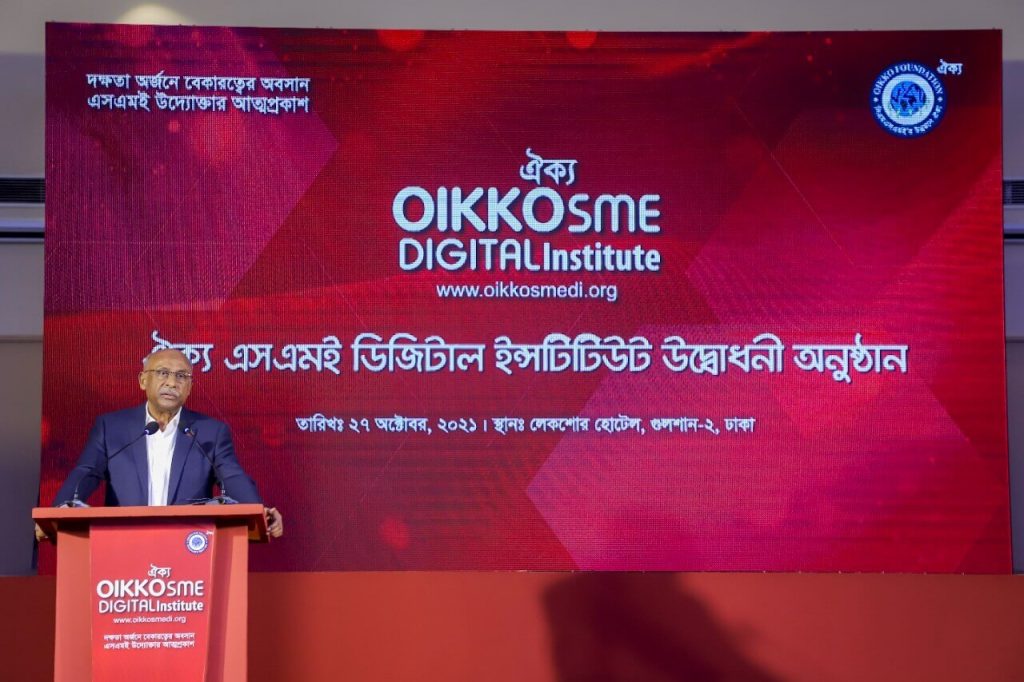 Hundreds of well-known SME entrepreneurs of the country, national award-winning SME entrepreneurs and esteemed trainers of Oikko SME Digital Institute were also present in the event.
Speaking at the inaugural function, Shaheen Akhter Rainy, President of Oikko Foundation (CMSME Uddokta Unnoyon Wing), said, "Every year, about 20-22 lakh young men and women acquire undergraduate and graduate degrees, after which they go in search of employment. A large proportion of these people, unable to find suitable jobs, end up becoming addicted to drugs or wasting their time on other harmful vices.
These are the children we had in mind when founding oikko.com.bd. I am sure that the digital institute that is being inaugurated today will be received positively and used widely by Bangladeshi netizens."
Shykh Seraj, Member of the Board of Trustees of Oikko Foundation, who graced the event as its special guest, said, "Oikko Foundation has played an indispensable role in supporting SME in Bangladesh, which is one of the four pillars of the country's economy. SMEs have great potential in numerous sectors, particularly in agriculture. I believe this digital institute will play a significant role in ensuring the economic growth of Bangladesh."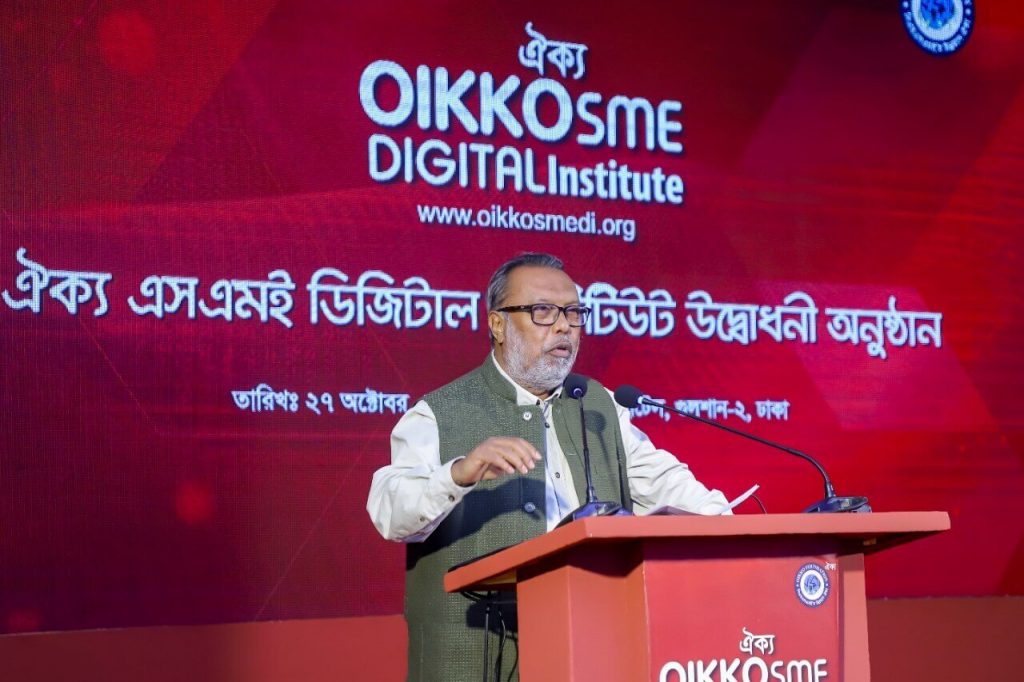 The Chief Guest, Hon'ble State Minister for Social Welfare, Government of the People's Republic of Bangladesh, Mr. Md. Ashraf Ali Khan Khasru, MP, said, "It is through the Oikko Foundation that so many aspiring entrepreneurs have been able to unlock their potential. I thank the Oikko Foundation for taking an initiative like the Digital Institute. I would urge all entrepreneurs to prioritize maintaining the quality of their products. To establish Bangladesh as a happy and prosperous state, we must all come together and contribute our best from our respective positions."
According to the information gathered from regular media research and communication, Oikko SME Digital Institute strongly believes that this digital institute will play an important role in fulfilling the dream of the thousands of youths to become SME entrepreneurs, learn to work and become self-reliant. Any person can complete an SME certificate course of three months duration from anywhere in the country with just spending Fifty taka.
Without coming to the capital from the village or spending a lot of money, any young person can become a successful entrepreneur by sitting at home and taking a course through this digital platform.