Oikko Foundation and oikko.com.bd celebrated International Women's Day with the theme "I am the Bangladesh". At the celebration at a hotel in capital's Banani, entrepreneurs were also honoured and handed over cheques of super sale in different fairs.
Dr. Md. Mofizur Rahman, Managing Director of SME Foundation, attended the function as chief guest. National award winning and well-reputed entrepreneurs and Oikko Foundation Board Members, including its Chief Executive Mr. Apu Mahfuz, were present.
Addressing the celebration, Mr. Mofizur Rahman praised Oikko Foundation for exposing the real entrepreneurs from remote areas of the country and said Oikko's bid is contributing to economic progress of the country.
"Today is International Women's Day. We hope our women entrepreneurs will progress further and the SME Foundation is always with them. I hope that the SME Foundation and Oikko will together be able to expand the ongoing activities to further development of the entrepreneurs," said the SME Foundation MD.
Oikko Foundation Chief Executive Mr. Apu Mahfuz told the function that every woman in Bangladesh is a source of power and they have been contributing to different sectors.
"Oikko Foundation is always with the women entrepreneurs and will remain same in future. Country's economy will witness further progress through the hands of women," he said.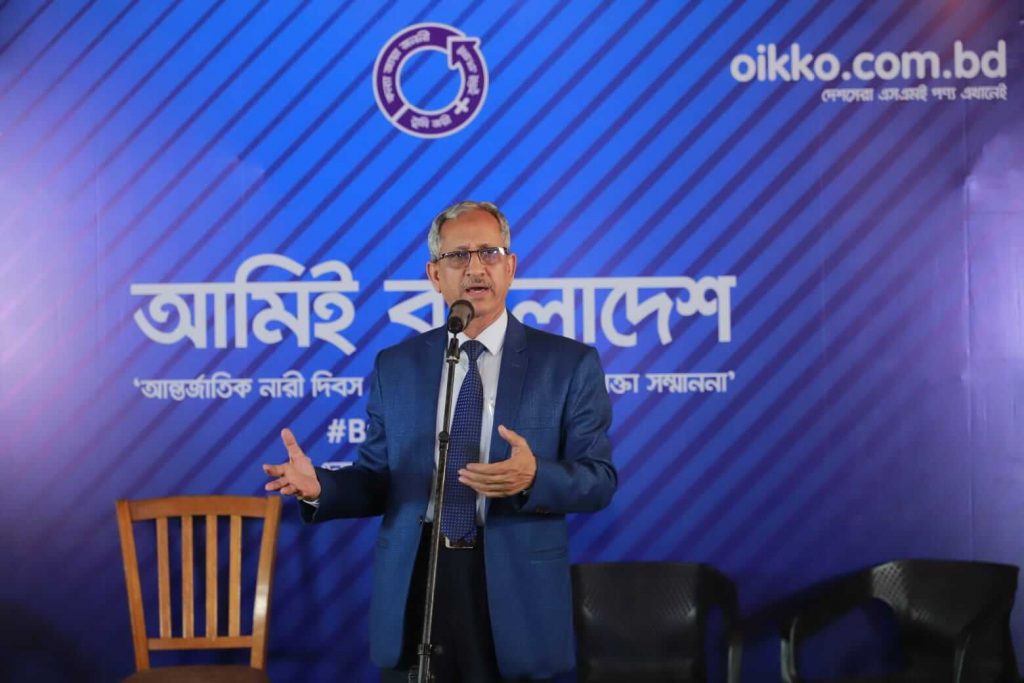 The function got further colour in the reception part where entrepreneurs received honour memorials and cheques amidst repeated claps and cheers.
It is mentionable that oikko.com.bd through products of CMSME entrepreneurs attracted huge audiences and buyers in Dhaka International Trade Fair 2022, Second CMSME Trade Fair in Chittagong and a fair organised by Rajshahi Chamber of Commerce and Industry in the recently held Bangladesh-India Cultural Meet in the silk city.
Among the honoured entrepreneurs, the function was addressed by Maksuda Khatun Payra of Shabab Leather, Mahmuda Sultana Imon who is known as "spice empress" and Asharful Alam of Agro Handicrafts.
All of them highly praised Oikko Foundation and oikko.com.bd for making excellent efforts to sale their products in the fairs alongside regular sales in the online platform.
The entrepreneurs were handed over cheques against sales of their products in the fairs, crests and certificates.
The arrangement in the evening of International Women's Day concluded through performance by the renowned Tagore singer, Anima Roy.