The 16th gala of 'Oikko-Channel i Music Award', one of the most prestigious award events in South Asia, will be held on November 14 in New York, United States of America.
The organisers disclosed detailed information about the music award at a press meet at the Channel i office in the capital on Sunday. Channel i Director and Head of News Shykh Seraj and Oikko Foundation President (Entrepreneur Development Wing) Shahin Akter Rainy were present at the press meet. Dhaka North City Corporation Mayor and President of Oikko Foundation (Enterprise Acceleration Wing) Mr. Atiqul Islam was connected virtually to the press meet.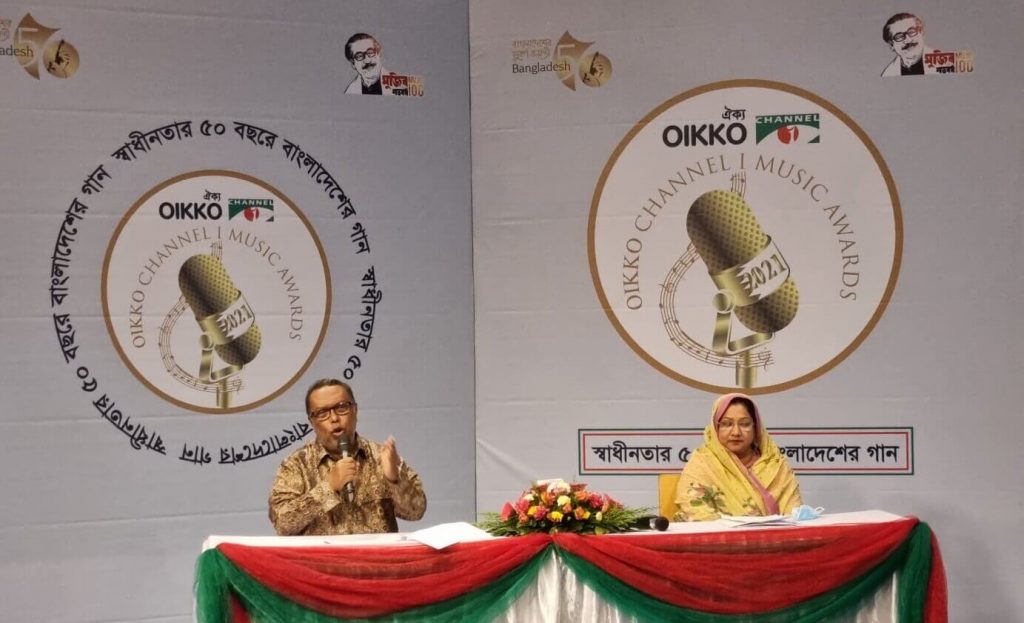 Shykh Seraj informed that this year's slogan of the award ceremony is 'Bangladesh's songs in 50 years of independence'.
"A total of 50 veteran singers, music composers and lyricists–who have contributed significantly to Bangladesh's music scene over the past 50 years of Bangladesh's independence, will be recognised with the special award at the '16th Oikko-Channel i Music Award'. The organisers will hand over the awards to the artistes who will be present at the event in New York on November 14," Shykh Siraj said.
"Moreover, one artiste from the 50 award recipients will be bestowed with the lifetime achievement award at this year's event."
"There will also be another programme held in Dhaka, where award will be handed over rest of the artists. The prestigious music award ceremony will be telecast on Channel I on January 1 in 2022," he also Informed.
It was announced in the press conference that the full event will be aired on Channel I on 1st January.
Singers Rezwana Chowdhury Bannya, Rafiqul Islam and Rathindranath Roy, Impress group director and project head of the award Jairuddin Mahmud Mamun also joined the conference virtually.
Jahiruddin Mahmud said, "To mark the golden Jubilee of Bangladesh's independence we will not keep any competitive category this year. This time, we will only honour 50 noted artists of the country. We will announce the artists' names from New York."
Shaheen Akhter Rainy, President of Oikko Foundation, said," This year's Oikko-Channel I Music Awards in America will introduce Bangladesh to the world in a new way. Bangladeshi music, geniuses as well as the products of new entrepreneurs will be introduced. We are grateful to the Channel i family for keeping us with this arrangement".
The Project Director of Oikko-Channel i Music Awards 2021 is Ezaz Khan Shopon.